September 10, 2018
Hello again,
What an amazing journey today (Monday)! We learned about the Nabateans in Petra, Amman where we believe the wise men started their journey to find Jesus. Mike and I rode donkeys, watched friends ride camels and walked all through the ancient city of Petra. We had a prayer service in the Petra church.
The day ends with a delicious dinner and stay at The Hilton on the Dead Sea. Tomorrow morning we will wade into the Dead Sea at sunrise.
God bless you,
Sue
Your parish administrator's journey continues.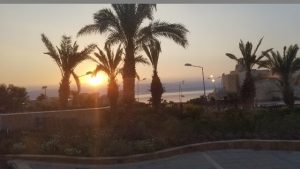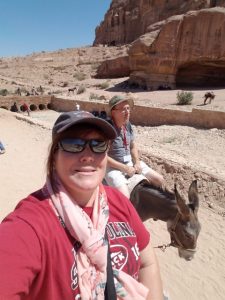 September 8, 2018
Hello All,
Here is an update of my trip.
We arrived at our hotel in Amman Jordan on Saturday morning at 4am after some crazy flights.
Today, September 8, we spent the day touring Jerash.  An ancient Roman city here in Jordan just about an hour north of Amman.
There are about 50 people in our your group including our tour guide and a security guard.   Most are from Greenville with about 10 from other states.  Its was a hot day here but with a cool breeze.   We celebrated Mass tonight at an English speaking parish called Sacred Heart.  My husband, Deacon Mike, was like a celebrity because the local priest was so excited to have a deacon serve at the Mass.  Looking forward to seeing Petra tomorrow as we head south before going to Jerusalem next week.
God bless you,
Sue
Your friendly parish administrator in the Holy Land.